What do you have in your hand? (AY)
Summary
This program is a panel discussion with people from different fields explaining how they can use their careers to reach people and lead them to Christ.
Program Aim
This program aims to show us how we can reach people using our skills and occupation.
Scripture References
Exodus 4:2
Theme Song(s)
#359- Hark the Voice of Jesus calling
Preparations and resources
A panel of 5-6 professionals from the church.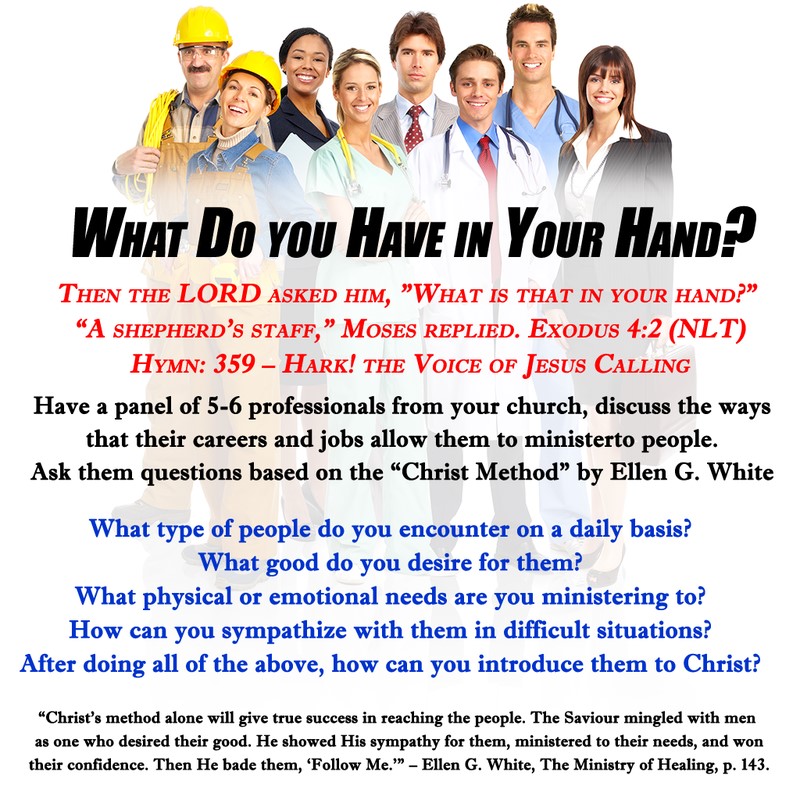 THEN THE LORD ASKED HIM, "WHAT IS THAT IN YOUR HAND?"
"A SHEPHERD'S STAFF," MOSES REPLIED. EXODUS 4:2"
Have a panel of 5-6 professionals from your church, discuss the ways
that their careers and jobs allow them to minister to people.
Ask them questions based on "Christ's Method" by Ellen G. White:
What type of people do you encounter on a daily basis?
What good do you desire for them?
What physical or emotional needs are you ministering to?
How can you sympathize/empathize with them in difficult situations?
After doing all of the above, how can you introduce them to Christ?
"Christ's method alone will give true success in reaching the people. The Saviour mingled with men
as one who desired their good. He showed Hie sympathy for them, ministered to their needs, and won
their confidence. Then He bade them, "Follow Me." - Ellen G. White, The Ministry of Healing, p. 143.