Sowing Seeds in Spain: Adult Mission Story for April 22, 2023
By Andrew McChesney
The first Sabbath, only Iván and Delia worshipped God in their home in a Spanish town without a Seventh-day Adventist presence. But the missionary couple were determined to change that.
Iván was from Mexico, and Delia was from Cuba. They had arrived in Spain a year earlier, just when COVID-19 hit, to support Adventist pastors in Barcelona. As the country began to reopen after COVID lockdowns, Ivan and Delia were asked to plant a church in the town of Segovia, located a 90-minute drive from Spain's capital, Madrid.
That first Sabbath, they read the Bible in their home. Iván played the guitar, and they sang. Although they were only two, they had hope. They had the name of a grandmother who had expressed interest in Bible studies.
A few days later, Delia contacted the grandmother, and the two began Bible studies.
The next Sabbath, it wasn't only Iván and Delia worshipping God in their home. They were joined by the grandmother and her 4-year-old grandson.
The Bible studies continued for a month.
Then the number of people worshipping together on Sabbath grew to five. The grandmother brought her daughter-in-law, the mother of her 4-year-old grandson, to the house church. The grandmother expressed disappointment that the boy's father, Lucas, had refused to come.
Iván asked the grandmother for Lucas' cell phone number and sent him a text message.
"We would like to invite you and your wife to lunch," he wrote.
A few days later, the two couples enjoyed lunch together and went for a walk in the park. During the walk, Lucas mentioned that he would soon turn 22.
Iván and Delia decided to surprise Lucas and his family with a birthday party. Delia baked a traditional tres leches cake (milk cake) and coated it with a light-green frosting decorated with red flowers and green leaves.
Lucas was very surprised! Never had he celebrated his birthday with a cake or a party. It was Delia's turned to be surprised when she learned that this was his first birthday party.
Lucas loved the cake and the party. He couldn't stop smiling. He was very happy. His wife also was happy. Their 4-year-old son and Grandmother also enjoyed the party.
After that, Lucas asked to join the Bible study group. Then he began to come to the house church on Sabbath. The number of people worshiping God on Sabbath grew to six: Iván, Delia, the grandmother, the 4-year-old grandson, the daughter-in-law, and Lucas. Ivan played the guitar, and everyone sang with joy.
Grandmother, Lucas, and the others invited their friends to come and enjoy the music — and they did. Then Grandfather started coming to listen to the music.
In a year and a half, the town went from having no Adventist presence to a place where 30 people regularly meet in the house church on Sabbath. Eighteen people are taking Bible studies, and six people have been baptized. Plans are under way to rent a church building.
"We are looking for a building because the number of people is growing," Iván says.
"We want a church for Sabbath worship and also for a center of influence where we can reach the community during the week," Delia adds.
Spain has many cities and towns without an Adventist presence. Thank you for your Thirteenth Sabbath Offering three years ago that went to Spain's Sagunto Adventist College to help train people to spread the good news about Jesus' soon coming in the country and beyond.
Mission Map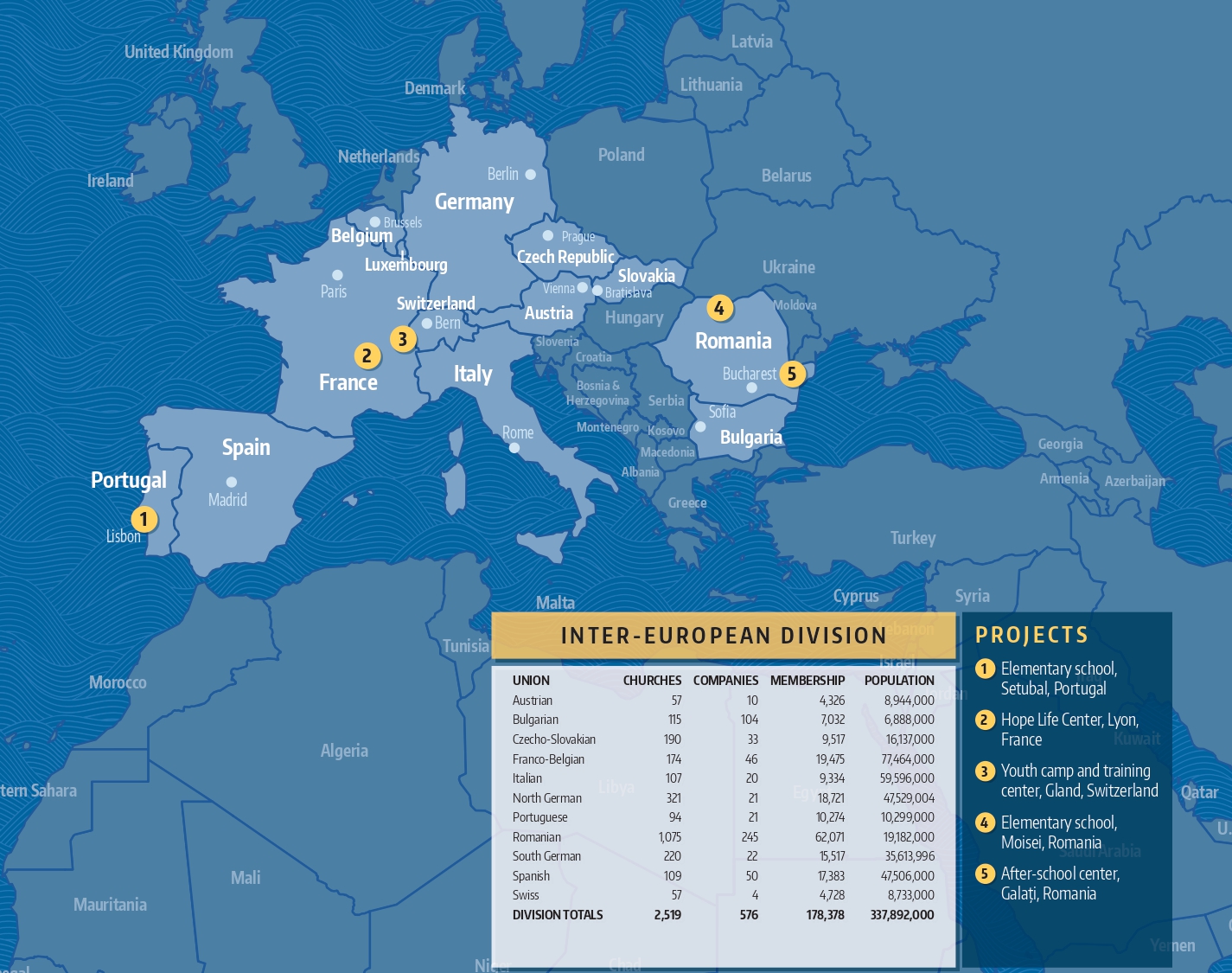 Mission Post
In the 1960s, Angel Codejón, president of the Spanish church, began work in the area of religious liberty. As a result, the church started to receive official permission for all churches to function and hold services. With a new Spanish constitution, the church was given total liberty in October 1978. Young men no longer had to fear being imprisoned for being faithful to their religion while in the army.
Sagunto Adventist College (Centro Universitario Adventista de Sagunto) was established 1965 in the Spanish province of Valencia on the east coast of the country. Sagunto offers degrees in theology, as well as Spanish-language courses, a professional music center, and an art academy.